Ultrasonic Testing device

Sonus XT
The versatility of Sonus XT makes it ideally suited to work with any plant maintenances program and the perfect complement to other Predictive maintenance (PDM) Technology. Ultrasound detection can be utilized to detect early warning signs of equipment failure and to conduct energy conservation audits.
Inspection can be performed quickly and safely by plant personnel with minimal training. Fast and accurate diagnosis of problems using the Sonus XT will save you time and money.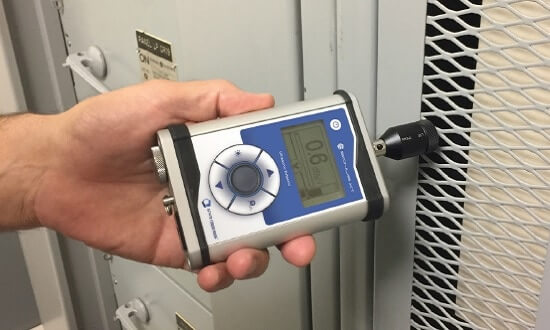 The Compact Ultrasonic Testing Device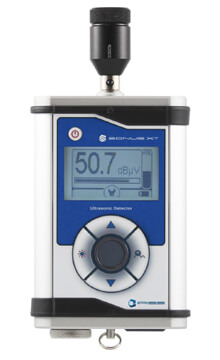 Versatile & Durable
Easy to use unit converts ultrasound into audible signals and shows instantaneous and maximum sound level readings in decibels.
Minimal training required
Minimal training is required to get a Predictive Maintenance program using Ultrasound up and running.
Early detection
Detect early warning signs of problems in electrical & mechanical assets long before they become failures.
Unparalleled savings
Find Leaks and Save on energy costs: Finding and fixing compressed air leaks can often reduce energy costs by up to 30%.
Compatibility
High quality behind-the-head style headset compatible for use with hardhats.
Streamline Planning
Collect baseline and trend information on mechanical asset performance to streamline maintenance planning.
Specifications
Operating Frequency
40KHz
Funtionality
Detection and conversion of ultrasonic signals to the audible spectrum, Display sound level (dB), Auto power off function
Display
Illuminated Liquid Crystal display
Connections
Custom jack ultrasonic probe types, Stereo jack plug 3.5mm
Power supply
2x AA batteries
Operating Voltage
2x 1.5 V battery
Running time
Approx. 24 hours with battery operation
Operating temperature
-10℃ … +60℃
Storage temperature
-20℃ … +60℃
Protection type
Device: IP54
Directives
2014/30/EU, electromagnetic compatibility 2011/65/EU, on the restriction of the use of certain hazardous substances in electrical and electronic equipment (RoHS)
Dimensions
Without probe: LWH 130x85x30 mm
With AP50 probe: L 170 mm
Probe: L 52 mm, Ø 22 mm
Items supplied
Ultrasonic detector, probes as specified in the order, stereo headphones, carrying case, user manual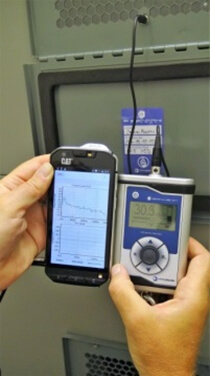 Applications and detecting signals
Switchgear, Switchboards, Panelboards, Transformers, Motor Control Centers and Process Equipment Panels to detect early warning signs including
With the optional Parabolic Dish sensor, look for signs of Corona on outdoor utility switchyard equipment including
Transformers
Insulators
Cut-out Switches
Mechanical Assets including
Bearing Condition
Pump Cavitation
Gear Box
Pumps/Motors
Find Energy Saving opportunities by conducting leak detection and energy audits on
Compressed Air systems
Vacuum systems
Seals & Gaskets
Condenser Tubes
Hatches
Boilers
Heat Exchangers
Valves
Steam Traps
Sonus PD-X & Pro (Partial Discharge Detector)
Portable Partial Discharge Detector
The SONUS PD-X & Pro are specifically designed for Partial Discharge (PD) and Airborne Emission (AE) detection on Medium and High Voltage Switchgear.
The unit detects Transient Earth Voltage (TEV) signals generated by internal partial discharge as well as ultrasound acoustic discharge generated by PD phenomrnon. PD detection can be utilized to detect early warning signs of equipment insulation failure.
Inspections can be performed quickly and safely by maintenance personnel with minimal training.
Optional Sonus UHF-P sensor or the Sonus HFCT-P sensor will allow the inspector to detect PD in broader range of applications and equipment.
Allowing the Sonus PD-X to safely scan a singular repeatable test point from the outside of the cabinet and not lose any of the signal.
due to diffraction.
Bluetooth (Sonus PD Pro)
Sonus PD can transfer acquired data to Smartphone via bluetooth with the application software.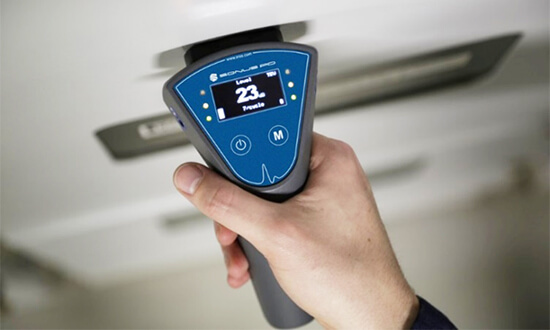 Features and Benefits
Compact handheld unit that will fit in your pocket.
Simple two button control on unit or control unit from Bluetooth connected Android Smartphone or tablet.
Listen wit built in speaker or High quality behind-the-head style headset compatible for use with hardhats.
Android smartphone or tablet display of dB readings, Phase Resolved Partial Discharge (PRPD) plots and for data logging.
Data Synchronization to central server and synch with other SONUS PD units on clients system.
Automatically generate high PD alerts to asset management team live from the site.
Data integration into SAP available on request.
Integrated Noise avoid "False Positive" TEV readings.
Compatible with panel mounted Partial Discharge Sensor (PDS) products from IRISS.
Minimal training is required to get a Predictive Maintenance program using Airborne Ultrasound and TEV up and running.
Detect early warning signs of problems in medium and high voltage electrical assets long before they become failures.
Collect baseline and trend PD information on electrical asset performance planning.
Advanced Data
Advanced processing power offers advanced data features.
Helping conditions monitoring teams reduce workload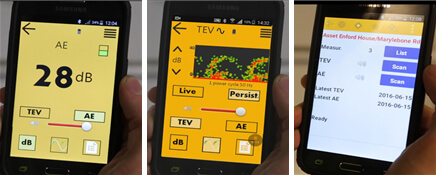 Technical Data
TEV Measurements
Sensor
Capacitive
Measurement Range
0 to 80 dBmV
Resolution
1dB
Accuracy
±1dB
Noise Rejection
Yes
Ultrasonic Measurements
Measurement Range
-6dBµV to + 70dBµV
Resolution
1dB
Accuracy
±1dB
Transducer Sensitivity
-65dB (0dB = 1volt/µbar RMS SPL)
Transducer Centre Frequency
40kHz
Application
Communication
Bluetooth & Customer Server
Data Access
Web front end
Capability
Android
Reporting
Yes
Results
dB, PRPD, Noise
Hardware
Enclosure
Injection moulded plastic case
Display
OLED display with 6 display LEDs (PD level)
Control
Membrane keypad
Connectors
Power, Headphones and External Acoustic Sensor
Operating Environment
Operating Temp
5°C to 55°C
Humidity
0 to 90% RH non-condensing
IP Rating
54
Unit Dimensions
Size
175 x 89 x 46 cm
Weight
300g
Power
Internal Battery
Lithium Ion, 3.75V, 2.2Ah
Operating Time
Approx. 8 hours
Battery Charger
Rated Voltage
90 to 264 V AC, 5V, 2.6A
Frequency
47 to 63Hz
Country Adapters
UK, EU, Australia, USA
Charge Time
2hours
Certification
Safety and EMC

CE-compliant in accordance with Low Voltage Direc-tive (2014/35/EU)
EMC Directive (2014/30/EU)
Sonus PD Usages
AE – PD Detection
Defects on the surface of high voltage insulators are prone to partial discharge phenomenon including arcing and tracking. Tracking causes carbon deposits to build up over time and ultimately leads to flashover and insulation failure. The SONUS PD is highly sensitive to the ultrasonic emissions produced by tracking and arcing and enables any onset to be detected long before a failure occurs.
TEV – PD Detection
Partial discharge activity inside insulating materials in metal clad medium and high voltage switchgear induces small voltage impulses called Transient Earth Voltages (TEV) on the surface of the switchgear's enclosure. TEV can be picked
up using capacitively coupled transducer of the SONUS PD. Left unchecked, the partial discharges inside these insulating components will eventually lead to catastrophic equipment failure.